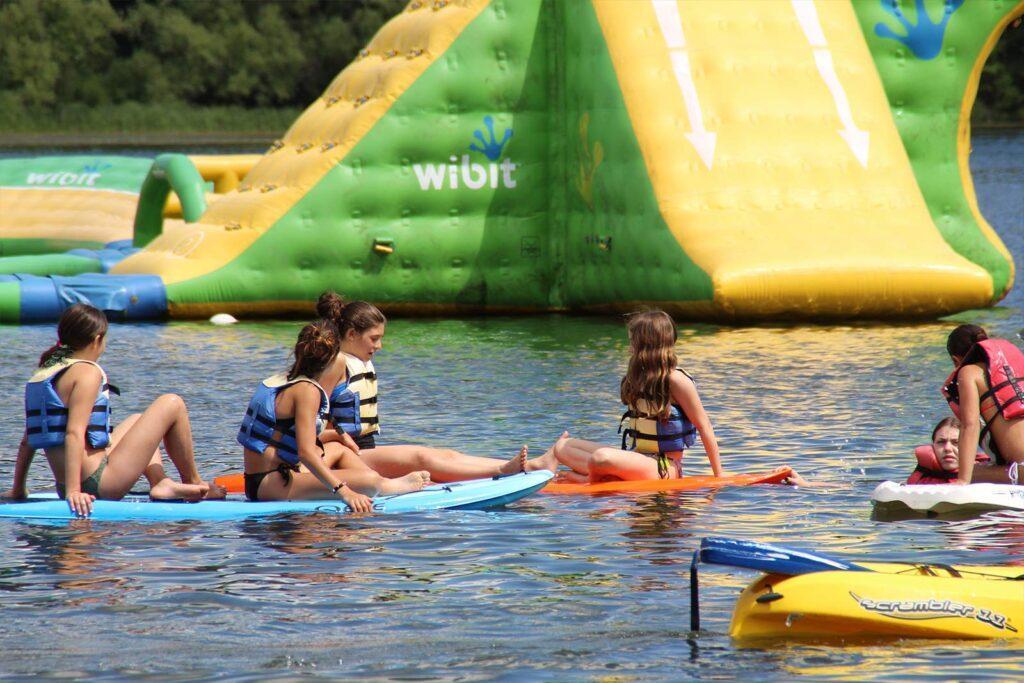 So you're thinking about a sleepaway camp for summer? How exciting! Let us give you some pointers for what to look for and help you make the best of this awesome experience.
First things first, who will be with your child? Look into the camp's reviews, safety records, and staff qualifications. The safety of your child should undoubtedly be their top priority. Your next step should be selecting a camp that you know your child would enjoy. Think about their interests, hobbies, the sports they play, and how their personality will mesh with the camp. Finally, it's important that both you and your child are prepared for their camp experience. It's perfectly normal for your child to have questions and even concerns for how this summer experience will be. Addressing these will help the whole family adjust to this incredible journey.
Benefits of Sleepaway Camp
New Skills and Experiences
Camp Pontiac is an adventurous environment that instills self-confidence, self-discovery, and growth while exposing children to new activities, programs, and relationships.
Independence and Self-Confidence: Sleepaway camp provides children with the opportunity to live away from home and grow independently in a safe and encouraging environment. This experience can foster self-confidence and independence.
Social Skills and Friendships: A sleepaway summer camp connects children to new people from different locations, cultures, and backgrounds. These relationships help build social skills like teamwork and communication.
Physical Activity and Outdoor Adventures: Sleepaway camps often offer a variety of opportunities that provide children with the opportunity to try new activities and programs while staying active.
Self-Discovery: Sleepaway camp provides children with the opportunity to try new activities, meet new people, try new meals, and explore their interests. Often, children discover new passions and develop new skills.
In-Person Communication: As the world becomes more and more technologically advanced, children are becoming exposed to technology, screens, and social media at a younger age than ever. Sleepaway camp provides children with the opportunity to disconnect from technology and be immersed in interactive, social, and physical activities for the entire summer.
Safety at Sleepaway Camp: What Parents Need to Know
Protocols, security, and trained staff 
Parents should feel assured about the safety of their child while away at camp. Typical camp safety measures include background checks for personnel, in-depth health and safety checks, and routine training for general protocols and emergency response techniques. In addition, camps have tight rules for staff behavior and camper monitoring, as well as protocols for handling any problems that may occur. Camper to staff ratio is something you should also consider. Parents might also feel encouraged by the glowing testimonials and experiences of other families who have sent their kids to the same summer camp. In the end, respectable sleepaway camps place a high focus on campers' safety and security.
Health and Wellness at Sleepaway Camp
The health and wellness of campers are always the most important aspects of camps. Reputable sleepaway camps implement programs and foster a healthy and safe environment for the campers. Camps generally have trained medical staff on-site and are in touch with nearby hospitals and urgent care centers for emergency needs. Healthy habits are implemented in the campers' daily schedules, such as a routine of nutritious eating and regular exercise. Several camps now prioritize mental health as well and bring licensed doctors, guidance counselors, and psychologists to interact with and check in with campers if needed. It is important to ask questions and become educated on each specific camp's health and wellness programs and protocols, as each camp can vary in approach, especially if your child has unique medical or social needs.
Dietary Restrictions at Summer Camp
Food, Nutrition, & Special Diets
Camps strive to meet the needs of campers who may have dietary restrictions, allergies, or are generally picky eaters. Many camps employ skilled chefs and nutritionists who can provide meals that adhere to certain dietary needs, like vegetarian, gluten-free, or kosher diets. In order for the staff to provide the proper accommodations, parents should inform the camp in advance of any dietary preferences or limitations. Camps frequently provide a variety of meal options for picky eaters and encourage children to try new foods while also offering alternatives if necessary. In addition, some camps provide snacks or allow campers to store snacks in specific locations if necessary. Be sure to discuss the nutritional wants and needs of your child when deciding which sleepaway camp is best for them.
Camp Activities and Programs
Athletics, arts and crafts, and more!
Athletics, activities and program structure can vary camp to camp, so it is important to do your research on each specific camp's offerings and match it up with your child's interests. Traditional outdoor pursuits like hiking, swimming, and canoeing are available at many camps, along with team sports like basketball, soccer, and volleyball. Drama and theater, music, dance, and arts and crafts are a few more popular pastimes. Along with general programming, many camps also include specialty ones like horseback riding, rock climbing, or water activities. In addition to these physical pursuits, many camps place a strong emphasis on social and emotional growth through team-building activities and character-building programs. Educational activities like science experiments, language lessons, or cultural workshops might also be provided at camps. The wide variety of activities and programs provided at sleepaway summer camps gives campers chances for personal development, skill development, and enjoyment.
What Age Should I Send My Kid to Summer Camp?
Feeling ready for camp?
This is a unique question that can only be answered by you and your child together. Once you both feel ready, more conversations can happen about what it will entail. It's pretty common for children to begin expressing interest in and attending sleepaway camps around the age of 8 years old. Sleepaway camps are generally geared toward children ages 8 to 16 years old. Children who are independent, enjoy responsibility, and aren't intimidated by overnight stays away from home are well suited for the camp experience. The choice to send a child to a sleepaway camp should ultimately be based on the child's needs and preferences as well as the resources and circumstances of the family.
Cost of Sleepaway Camp
Why sleepaway camp is worth the Investment
Although sleepaway camps can be expensive, it may be a wise investment in your child's social and personal growth. By being away from home and taking on new challenges, camp provides a special opportunity for kids to develop independence and self-confidence. Camps offer a secure and encouraging setting where kids can practice their social skills and make friendships with peers from other backgrounds. Additionally, kids can find new interests and passions through camp activities like creative arts, team sports, and outdoor adventure. While some families may be concerned about the cost of sleepaway camp, the long-term advantages for a child's personal development often outweighs the expense.
Generally, the cost of sleepaway camp ranges depending on various factors, including the duration, type of camp, location, and amenities. The cost can vary from a few hundred dollars to several thousand dollars. The pricing can be broken down into three categories: budget camps, mid-range camps, and specialty camps.
Budget Camps: These camps generally have simpler accommodations and fewer specialized activities. They typically cost between $500 and $1,000 per week.
Mid-Range Camps: These camps provide a larger variety of amenities, programs, and activities like horseback riding, water sports, or arts and crafts. They typically cost between $1,000 and $2,500 per week.
Specialty Camps: These camps offer specific activities or interests, such as music, sports or wilderness adventures. They often have higher-quality facilities and specialized staff. Prices for specialty camps can range from $2,500 to $5,000 or more per week.
For exact pricing information, it is encouraged to research specific camps you are interested in or contact their organizers directly.
Homesick at Sleepaway Camp
How to Cope
It is common for children to feel homesick at sleepaway camp, especially those attending for the first time. Homesickness can have physical signs like headaches or stomach aches–but can also have emotional signs like melancholy, anxiety, sadness, and longing for home. While dealing with homesickness can be challenging, there are a number of techniques that can make campers feel more at ease and a part of their new surroundings. Parents can assist by easing their child's emotional transition to the experience and supporting their growth in independence and self-care. In order to combat homesickness, campers can also benefit from staying in touch with loved ones via letters or phone calls, carrying comforting objects from home, engaging in camp activities, and reaching out to camp staff for support. Camp staff are trained with techniques on how to provide the proper support and encouragement campers need to feel comfortable. With their support, the distractions and activities at camp, and time to adjust to their new summer environment, most campers overcome feelings of homesickness in no time.
Communicating with Your Child at Sleepaway Camp
Letters, phone calls, and social media
Depending on the camp's policies and the family's preferences, communication between parents and their children at sleepaway camp can vary. Numerous camps permit and promote correspondence via letters, which may be an enjoyable and practical method for parents to stay in touch with their children. Some camps also provide phone or video conference options. Parents can keep up with camp activities through newsletters from the camp or updates from social media. While it makes sense for parents to be concerned about their children's welfare, it's crucial to strike a balance between this and allowing the child to enjoy independently and fully. It is important to become educated and address the communication strategy with the child and the camp prior to the start of sleepaway camp.
Visiting Day
Most camps offer a visiting day for friends and family halfway through the summer. Families, friends, and relatives get the chance to visit their camper, meet their new friends, their counselors, staff, and try out their child's favorite activities at camp.
The Long Term Benefits of Sleepaway Camp
Lifelong skills, experiences, memories, and friendships
There are several benefits of sleepaway camp that go beyond the basic camp experience. As children engage with other campers from different backgrounds, they acquire social skills like communication and teamwork. As campers face unfamiliar situations and difficulties outside of their comfort zones, the experience can also foster independence and self-confidence. In addition, because they take part in a range of activities and events, campers will discover new interests and hobbies. The friendships and memories made at camp can endure a lifetime and even serve as a sense of community and support system in later years. Overall, sleepaway camp can help campers develop the abilities and experiences they need to succeed in future undertakings like school, careers, and friendships.