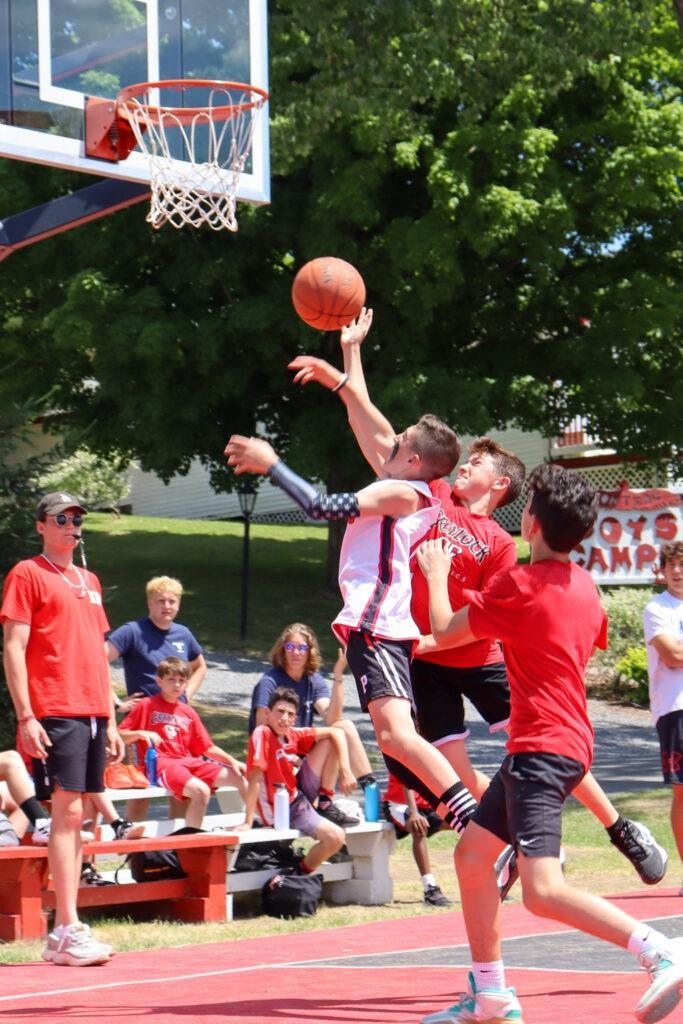 If you're exploring basketball sleepaway camps for your child, you've come to the right place!
When choosing the right basketball sleepaway camp, it's important to select a camp that aligns with your child's preferences and consider the best way for them to make the most of their summer. This article will discuss the aspects to focus on when choosing the best basketball camp for your child. 
Choosing the Right Camp
While many sleepaway camps implement basketball into their weekly schedule, some are more basketball-focused than others. You should talk with your child about how often they'd like to participate in basketball activities throughout the summer. Then you can make the right choice. 
Three types of programs are available: sleepaway basketball camps, sports and athletic camps, and general sleepaway camps with basketball as an activity. 
Basketball Opportunities at General Sleepaway Camps
If your child is looking for a camp experience where they can try all sorts of activities beyond athletics while still having the opportunity to play basketball, a general sleepaway camp would be the right fit. Camp Pontiac is one of many sleepaway camps in New York with basketball opportunities for your child to enjoy. While they provide campers with various activities, they are known for their highly trained basketball coaches with 8 dedicated basketball courts and award-winning staff.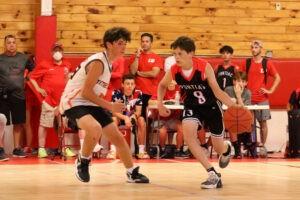 Children attending general sleepaway camps benefit from a complete and varied experience beyond athletic opportunities. While basketball is often offered at these camps, they can also try other activities such as arts & crafts, cooking, and swimming. Your kids can experience other sports like soccer, lacrosse, gymnastics, and tennis. There are also adventure sports like hiking, camping, ropes courses, and lake activities, which encourage a spirit of outdoor adventure. All of these activities, for example, can be experienced at Camp Pontiac. 
In addition, some general sleepaway camps allow children to customize their schedules to focus on their favorite activities like basketball. These camps often hire specialized coaches, offer private lessons, one-on-one sessions, and host professionals to teach clinics. Competitive leagues and tournaments internally and against other nearby sleepaway camps are very popular. 
Coaches and Staff for Basketball Camps
Considering the instructors, coaches, staff, basketball curriculum, leagues, and lessons offered at the camps you are interested in is important. You want to ensure your child receives guidance from experienced coaches within the field. 
Coaches and staff play a pivotal role in providing children with a fun, safe, engaging atmosphere. Reputable sleepaway camps generally hire experts within the field to expose children to the correct techniques to improve their skills. They are often highly passionate, motivated, and educated about the sport. Staff will often organize practice and drill sessions, team-building activities, one-on-one sessions, group lessons, private lessons, games, and tournaments to help campers improve their skills individually and as a team.
Injury Protocols & Policies
Of course, safety always comes first! All sleepaway camps want families to feel reassured that their children are in great hands. Sleepaway camps dedicate a team of medical professionals and well-equipped facilities to handle any injuries that may occur. Camp Pontiac is proudly owned by doctors, providing families with that extra touch of reassurance and confidence when it comes to caring for their campers. The health and wellness team at Camp Pontiac has highly qualified staff members equipped to treat any medical issues or injuries as they arise. 
The Lifelong Benefits of Playing Basketball at Sleepaway Camp
While basketball is one of the most popular sports globally, it offers many physical and mental health benefits. Here are a few benefits of attending a sleepaway camp with a basketball program:
1. Improved Physical Fitness
As a high-intensity activity, basketball requires quick movements, jumping, and running. Basketball activities can increase stamina and improve cardiovascular health and general physical fitness. Children can implement basketball into their schedules while at sleepaway camp, which can help build endurance, further develop athletic abilities, and improve their strength.
2. Enhanced Coordination and Motor Skills
Basketball requires quick defense mechanisms, motor skills, and hand-eye coordination. Sleepaway camps offer children the opportunity to learn the proper techniques to improve their motor skills from well-educated staff.
3. Teamwork, Sportsmanship, and Collaboration
Basketball games require teamwork and collaboration. Sleepaway camp allows kids to work with their teammates to achieve a common goal. Working together will teach them to problem-solve, communicate clearly, and support and trust their teammates.
4. Boosted Confidence and Resilience
While basketball has many benefits, it can also improve children's self-esteem and confidence. Basketball teaches children to set goals, stay determined, and achieve success. Basketball also encourages children to handle failure and adjust accordingly, allowing them to develop resilience and self-discipline.
5. Fun and Enjoyment
Lastly, not only is basketball fun to play, but it is also fun to watch. Basketball provides sleepaway camps with an opportunity to gather the camp together to cheer on other campers. Children can focus on the game, make memories, and develop a healthy relationship with physical exercise and activity. 
Ready to Tour?
There are several main factors to consider when deciding what sleepaway camp is best for your child to attend. Aside from factoring in your child's interests and passions, it is also important to determine their maturity and age to see what camp structures would suit them best. You should also consider the cost, length of the camp sessions, location, and reviews, and the safety and reputation of the sleepaway camps. Ultimately, while researching the prospective options, you should tour the basketball sleepaway camps in person and see if you and your child think it is the proper fit.